The Yankton Four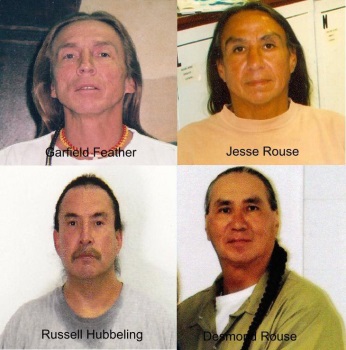 For the history of this case click here.
Here is a recent article about the case by Evelyn Red Lodge in the Native Sun News.
Read more about this case in the Huffington Post.
Here are some of the reason we are sponsoring this case:
The men were convicted on the basis of unreliable evidence, chiefly the testimony of very young children who had been coercively and suggestively interviewed. Such improper and since discredited techniques, unfortunately, were in common use during the 80's and 90's and resulted in many serious injustices. The prosecution also used bribes and threats to secure the desired testimony. These threats extended to the parents of the children, who were told not to co-operate with the defense or else lose their children. Under the influence of coercive questioning, the allegations grew in number and became bizarre.
The defense made serious errors even before the trial began. They suggested that the children be allowed to testify via closed-circuit TV. They proposed the appointment of a guardian ad litem, who consistently sided with the prosecutor throughout the trial. They failed to timely file a motion permitting testimony that the children were having sexual relations with one another.
Crucial evidence was withheld from the defense.
The judge made serious errors that were indicative of his bias. He severely limited the testimony of the defense experts, who were not even allowed to interview the children. The judge would not even allow the experts to testify whether or not the investigative practices constituted "a practice of suggestibility."
The judge allowed the prosecution to ask leading questions to be answered with "yes" or "no," thus making effective cross examination impossible. Rather than ask whether or not the abuse occurred, the judge allowed the prosecutors to ask whether they had told third parties that the abuse had occurred.
The judge refused to let the jury know about the bizarre nature of many of the accusations.
All of the alleged victims have recanted. (Unfortunately, these recantations were not credited by the courts.)
The case was severely tainted by racism. The judge, the jury, and the lawyers were all white. One juror reported that racial jokes involving Indians were told in the jury room.
At least one of the defense attorneys was also a racist. He told an investigator "that members of the Lakota Sioux tribe were generally a dirty, lazy, drunken, violent people. He blamed their deficiencies on Sioux theology, which he said mistakenly worships creation rather than the creator. [The lawyer] told me that the Sioux would not be able to turn their lives around until they accepted Christ into their lives."
Please consider making a donation.
Posted by rbchatelle on Saturday, June 11th, 2011 @ 11:58AM
Categories: cases
Tags: Newsroom, Our Cases, South Dakota
Subscribe to the comments on this post.
2 comments